Terms of Service

By joining any of our websites you are agreeing to the terms and conditions about to be stated in this agreement.

These terms and conditions can be changed at any given time and changes are at the sole decision of the owners of the Bella Network – owners of Bryci.com, Katiebanks.com, Taliashepard.com, AleahJasmine.com, AvaDawn.com, HunterLeigh.com, BellaNextdoor.com, Bellapass.com and Bellapixels.com.

It is the individual and/or members responsibility to refer to this agreement for changes made within. Upon submission of the payment process join form the individual shall then be deemed as a "member" and has also agreed to these terms and conditions.

All memberships will automatically renew upon expiration of your current term unless you cancel your subscription a minimum of 3 days prior to the end of your term.

To cancel your membership, please go to https://support.ccbill.com

This is the only way to cancel your membership and you are responsible to cancel your own membership. If you somehow get your account suspended for misuse, sharing your user/pass or mass downloading, you are still responsible to cancel your own membership. Emailing us does not cancel it for you.

Your username and password are case sensitive. They are also intended for your personal use ONLY. Allowing anyone to use your username/password will automatically result in the cancellation of your membership and you will be banned and reported to CCBill which may result in being blocked from joining future sites CCbill works with as payment processor.

You will NEVER be asked to provide your username and password to us. If anyone contacts you asking for this information, please report them to us at the email address listed below. Do not give your username and password to anyone.

Our Network gives you full Network access in that you can use one membership to be in the member side of each of our sites within Bellapass.com.

We do limit your daily download amount to prevent misuse and site ripping. If you reach this limit, your account is frozen for 12-24 hours. 30 gigs per day. If you download 30 gigs per day for several days in a row, we reserve right to terminate your membership for site ripping or suspend you for a longer term than 24 hours. This affects less than 1% of members.

We do not allow download programs or scripts of any kind to download from our sites. This causes massive server usage, it slows down other members and costs well above your membership in bandwidth. Using these scripts/programs leaves a very unmistakable mark in our logs. If you are found using a script or download program, your membership will be terminated. No exceptions to this.

We reserve the right to refuse membership to any individual or business and the right to cancel any membership without prior warning.

We do not offer any type of guarantee and/or warranty regarding any aspect of the service provided to the member.

All content including candid images, photos, webcam archives and videos are the sole property of Bella Network and is not authorized for third party distribution. We you are found posting our content, we will have lawyers involved at your expense. We're not the bad guys, don't steal from us and we're fine. We have sued in the past when we had no choice, it's never a good thing for the person getting sued.

Any questions regarding this agreement should be forwarded to james (at) bellapss (dot) com.

This agreement is bound by the laws of the Canada
Broken Images and Videos

If you have site access, but images are not loading for you, odds are you have hit our IP limiter and the site has temporarily suspended your account.

Each account is given a certain amount of allowed ip addresses. If you have used your ip's up, the account is frozen until we can look into it and reset it.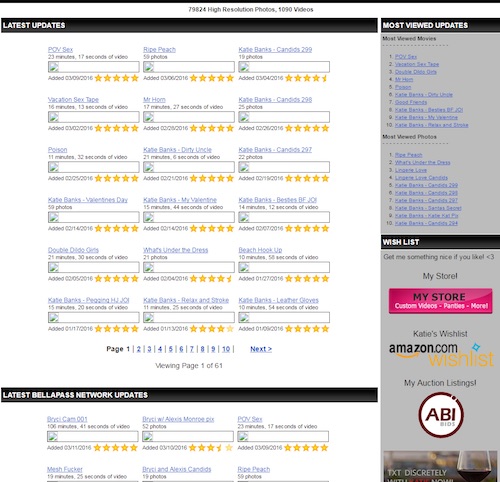 If your page looks like this, that is what is happening.  You still have access, but nothing works!
Email us at james (at) bellapass (dot) com and include your username and ip address as obtained here: http://ipchicken.com and we will reset the ip issue and get you back into the site as quickly as possible!
Username / Password Issues

When logging into any BellaPass website, the username and password are case sensitive. Captcha is not case sensitive. If you enter the wrong user/pass combination three times, the server will block your ip address for 20 minutes time to prevent brute force attacks.

If you cannot remember your username or password, they are eight random characters, assigned by the server script when you sign up. If you need your user/pass again, you can get it from ccbill here: https://support.ccbill.com
403 Forbidden Page

When you try and go to any of the sites within BellaPass Network, if you get a "403 Forbidden" page instead of the site itself, it means your username, or ip address is being blocked.

Now the question becomes, which of the two is the issue and why is it occurring.

Possible explanations:
The network has a bandwidth limiter in place of 30 gigs per 24 hour period. If you pass this limit, through downloads and streaming your account is suspended for 24 hours. We do this to stop site rips and server abuse. Less than 1% of all members reach this limiter.
You have used multiple ip addresses when accessing the site and your account was suspended under either suspicion of password sharing, or the more likely, you simply used up the available ip addresses for your account. Emailing us with your username and ip address will fix this within 24 hours in most cases. Email us at james (at) bellapass (dot) com and be sure to include your username and ip address as obtained byhttp://ipchicken.com
If you have never had access before, as in, you just signed up and you can't get in.. it's possible your area is blocked due to previous abuse issues from someone on a similar ip address. The ip subnets are occasionally blocked to remove an abusive person. Again, email us at james (at) bellapass (dot) com and be sure to include your username and ip address as obtained by http://ipchicken.com
Although unlikely,. it is possible your account was tagged because you were using an outside program or browser plugin to mass download images/videos. Sometimes people do this so they can queue several videos or images at one time for download. This is against site policy, as it is very hard on both the server and our bandwidth bill. Email us at james (at) bellapass (dot) com and be sure to include your username and ip address as obtained by http://ipchicken.com
All of these issues are easy to fix, so be sure to email us so we can take care of you!
Dating Sites and Escorts

Our network is here for entertainment purposes.

The ladies are models, not escorts. They are not available for hire to be your date.

None of the Bellas are on dating sites. If you find one on a dating site, someone has stolen our images and is trying to scam you. Same thing with escort ads.
Facebook

NONE of the Bella ladies have Facebook profiles.

If you find someone on Facebook who claims to be one of the Bellas, it is a man trying to scam you. Of course they won't admit it and they'll have a great story to make you believe it's really the model.

Use common sense here.

Go to the model's official twitter and message her yourself.

Of course if you'd rather chose to believe it's the model, and send them money when they ask you for it, and they will ask you for it eventually… don't come crying to us when you clue in you were scammed for money.
Stalkers and Security

We watch who signs up, and where they access our sites from. We do this for safety purposes.

If you live in a 300 mile radius of one of our models, or the same town, we will remove your membership and ban you network wide.

It's not personal, we have had issues with stalkers so we take security very serious.
Scammed for Money

If you have been scammed by a faker pretending to be one of the Bella ladies, please report this to your local police.

Telling us won't get your money back unfortunately as we had zero to do with it.

Most of these situations arise from dating sites with false profiles.

The dating site itself tells you to NEVER send money to someone. Read their FAQ.

The unfortunate reality is that if an insanely hot woman messages you on facebook or in a dating site, 99.9% of the time it is a man trying to con you out of money.

Hot girls NEVER message guys, they're too busy answering messages FROM guys. Some common sense here and you wouldn't get scammed.

Even the FBI wants you to know about these scammers.
Zip Sets

Currently, there are no zip sets within the BellaPass sites.

This will be changing with the new BellaPass network V2 that launches in June/July.
Cell Phone Issues

If you are having issues with viewing video on your cell phone, please ensure you are clicking the right link for mobile. It's listed at the bottom of the links. (mobile)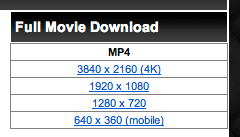 The video then has to download partially to your device before it starts, it will appear as if it is not working, but it is buffering.
If you have a slow connection, it will take longer than if you are on wi-fi or have a fast connection.
Please understand we are not cell tech support. If you have an older phone, or no room on your phone due to apps/movies/games you may not be able to play videos as easily.
We are currently creating a new BellaPass Network that has advanced cellular streaming options, auto sensing your speed and adjusting on the fly as your speed increases or decreases so you have the highest possible quality video at all times. The new network will launch in June/July 2016.
Cancellations

You will remain a member of this site until you cancel your subscription by going to CCbill's website at https://support.ccbill.com

If you stay and rebill every month, you save money!

Normal membership rate is $29.95 per month but rebill rate is $24.95.