FREQUENTLY ASKED QUESTIONS
Username / Password Issues
When logging into any BellaPass website, the username and password are case sensitive. Captcha is not case sensitive. If you enter the wrong user/pass combination three times, the server will block your ip address for 20 minutes time to prevent brute force attacks.
If you cannot remember your username or password, they are eight random characters, assigned by the server script when you sign up. If you need your user/pass again, you can get it from ccbill here: https://support.ccbill.com
403 Forbidden Page
If you have reached a 403 forbidden page, there are several possible reasons.
You ip sub network may have been blocked due to abuse from someone else, or yourself if you attempted a site rip.
You may have entered the wrong user/pass three times at which point the server has blocked you for 20 minutes. Please try back after 20 minutes or be sure of your user/pass by going to CCbill and getting it again: http://support.ccbill.com
You may have reached the daily bandwidth limit of 30 gigs. The limit is calculated by everything you do within the BellaPass network of sites. Downloads, streaming videos, opening images. Less than 1% of our entire member base hit this limiter. It is in place to prevent site rips and server abuse. The suspension is for 24 hours if this has occured.
Broken Images and Videos
When you can log into the site but the images are all broken symbols or the videos don't load, your page most likely looks similar to this: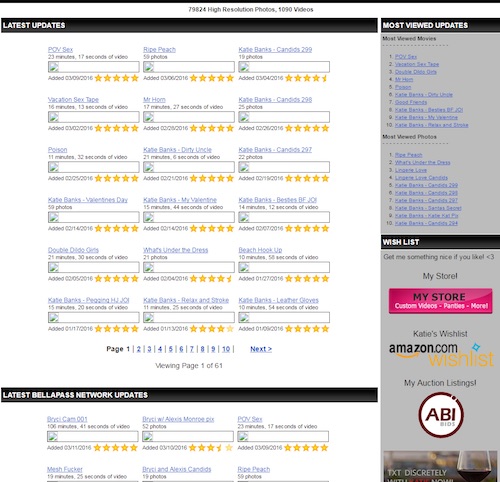 This is caused usually, by an IP issue with our server because you have connected from multiple places over the term of your membership. This might have been because your ISP assigns new ip's, or you were traveling, or you just used your membership often from various places.
Easy for us to fix! Send us your username (NOT PASSWORD) and your ip address. You can get your ip address from http://ipchicken.com
Email that information to: james@bellapass.com with subject: BROKEN IMAGES
Cell Phone Issues
If you are having issues with viewing video on your cell phone, please ensure you are clicking the right link for mobile. The video then has to download partially to your device before it starts, it will appear as if it is not working, but it is buffering.
If you have a slow connection, it will take longer than if you are on wi-fi or have a fast connection.
Please understand we are not cell tech support. If you have an older phone, or no room on your phone due to apps/movies/games you may not be able to play videos as easily.
We are currently creating a new BellaPass Network that has advanced cellular streaming options, auto sensing your speed and adjusting on the fly as your speed increases or decreases so you have the highest possible quality video at all times. The new network will launch in June/July 2016.
Zip Sets
Currently, there are no zip sets within the BellaPass sites.
This will be changing with the new BellaPass network V2 that launches in June/July.